| | |
| --- | --- |
| Welcome back! We got Kyle working for his living now, no lime green flotation devices on this page! | |
| | |
| --- | --- |
| | Has Kyle developed green feet? Somehow we'd expect to be walking in the garden while wearing these, but that's okay! Given the blur, those are some very happy feet. |
Oops! It appears I almost missed the hot tub this time! I guess you CAN throw yourself into your play, too?!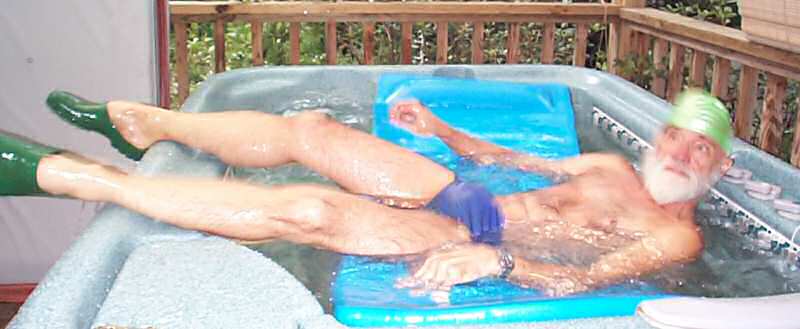 | | |
| --- | --- |
| | We could have included this photo in our Working Rubber section, but figured it was too much fun for anyone to believe. The red sleeveless latex Tee and the rubber codpiece trunks are from Recoil.557. Kyle has graciously agreed to serve as a more interesting replacement for the stock pouch of these trunks. |
Well, Kyle, I don't know if people are really going to believe that you're THIS exhausted!! The waders are those great Rod & Reel hip boots from Hodgman. This could easily have gone in my colorful rubber section, I'm guessing.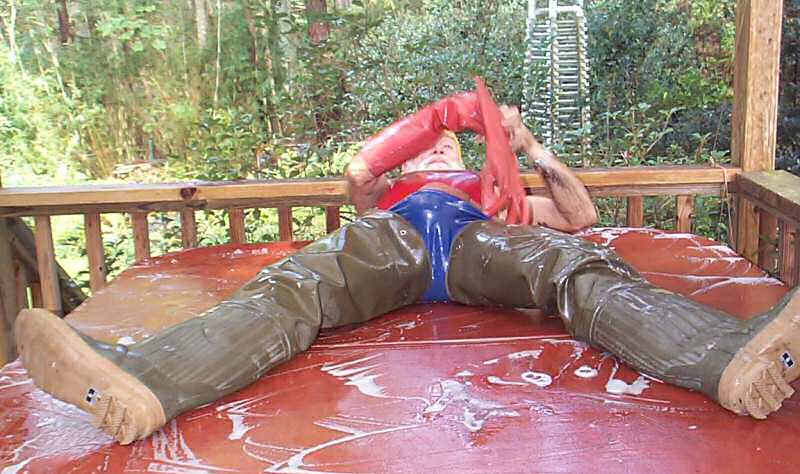 | | |
| --- | --- |
| | A full frontal view, so you can see how it's all done. The lifting belt is my widest, although we're seeing it from the front only. The snaps for the removed codpiece show where coverage would be. My modified Blue Kyle rides rather low, just high enough to cover that which is necessary. |
| | |
| --- | --- |
| Exit Latex Kyle, enter Turquoise Tom!! Well, they are brief in seat coverage, even if highly overabundant in genital volume<G>! My turquoise Smoke Eater's mask and nitrile gloves seem to fit perfectly: My old ProLine waders used to get stuck in some weird scenes! | |
Sometimes you just don't know what lurks below the hot tub surface. Sometimes, you'd rather not know! It was an interesting ride on that float, as I remember!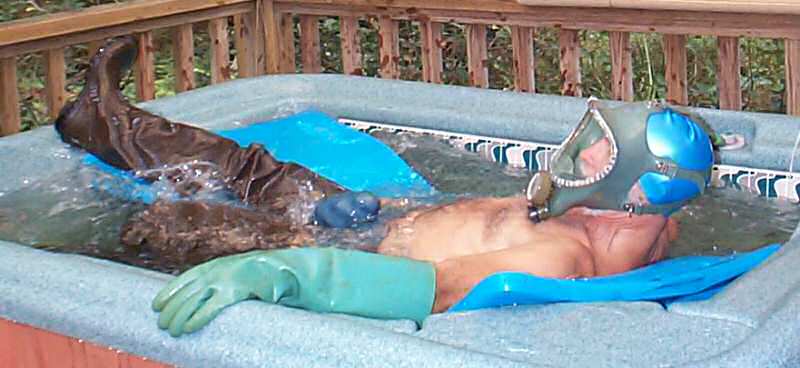 Perfect lounging pose, but think of the effort to achieve that balance. My butt is low enough so it does appear I'm more in an aquatic recliner than on a foam float.

---

Are you still with me? Coming up on the next page are two heavy rubber (read that neopene) supermodified trunks in various enjoyable modes and activities! Here's the link to Hot Briefs, Page Three . . . . Get Wet!